ZimmWriter Review: A Complete Guide to the AI Writing Assistant
My ZimmWriter review highlights the transformative power of artificial intelligence in content creation. ZW is one of the leading AI writing tools in this revolution.
Developed by Matt Zimmerman, this innovative software utilizes advanced natural language processing technology to quickly generate high-quality, human-like content.
In this extensive ZimmWriter review and guide, we'll cover key features, benefits, and use cases. Additionally, we'll provide a step-by-step tutorial for using ZimmWriter in content creation, SEO optimization, and more.
What Exactly is ZimmWriter?
ZimmWriter is an AI-enabled text creation tool leveraging OpenAI's GPT-3 model.
It efficiently interacts with the OpenAI API, generating extensive, unique content that eludes plagiarism checkers and AI analysis systems.
Unlike cloud-based subscription services, ZimmWriter is a downloadable Windows application.
After an initial purchase of a lifetime license or monthly subscription and an OpenAI API key setup, you get unlimited access without recurring charges or reliance on cloud services.
Unlike other AI writing tools with monthly word limits, ZimmWriter uses a pay-per-use model, charging only for actual AI usage.
Now, let's explore the superior features that make ZimmWriter a top choice.
Key Features and Tools
ZimmWriter packs a robust suite of AI-powered content creation features. Here are some of the core tools it offers:
1-Click Blog Writer – Create Content Quickly
The 1-Click Blog Writer feature of ZimmWriter is an efficient tool for initial content drafting, editing, and refining, making it beneficial for SEO experts, content creators, bloggers, and digital marketers.
It's an excellent tool for brainstorming content ideas, ideal for freelance writers, copywriters, content strategists, businesses, and brands that require regular blog or website content.
It's a significant tool for students, researchers, and professionals who frequently need to create quality, engaging content.
SEO Blog Writer – The Main Writer Feature
The SEO Blog Writer is a tool that simplifies the creation of optimized blog content.
It allows you to customize headings, integrate high-ranking keywords, adjust content length and voice, include images and YouTube videos, and add FAQs, lists, and tables.
It adheres to on-page SEO practices, lets you import custom outlines for structural control, create meta descriptions, uses manual keywords, and auto keywords.
Zimmwriter can work in combination with content optimization tools such as NEURONwriter to obtain a higher search engine ranking. You can take keywords from Neuronwriter and add them to zimmwriter, and zimmwriter will include those keywords in the article.
Bulk Blog Writer
ZimmWriter's Bulk Blog Writer is an invaluable time-saving tool for high-volume content production.
As the name suggests, it can automatically churn out up to 1,000 blog posts with just a list of titles. You input the headlines and configure settings like keywords and templates, and ZimmWriter handles the heavy lifting of drafting the posts.
The Bulk Blog Writer makes optimizing and scaling content creation for SEO silos, location pages, or other needs easy without manual drudgery.
Local SEO Buffet
The Local SEO Buffet feature creates optimized location and service pages to boost local search engine visibility.
This is particularly useful for multi-branch businesses with varied services as it saves time.
Platforms like Google My Business, Bing Places, Yelp, Foursquare, and TripAdvisor can greatly benefit from this feature.
This feature of zimmwriter streamlines the process by auto-generating ready-to-publish sets of location and service pages, with the goal of enhancing local search rankings on these key platforms.
Penny Arcade ( Rewriting Articles)
Penny Arcade offers two approaches for unique content creation using ZimmWriter.
The first approach lets you input a list of up to 1,000 different URLs, each holding a separate article. Once submitted and with options set, click 'Start Penny Arcade' to get a unique article based on these inputs.
The second method provides a field to paste in up to 10,000 words from an article or story. After setting preferences and clicking 'Start Penny Arcade', ZimmWriter will summarize and deliver a new article.
Penny Arcade gives you complete control over your content creation, and with the help of ZimmWriter, it ensures the generation of relevant, distinct, and engaging articles with semantically connected entities.
Convert YouTube videos to Articles
Penny Arcade of Zimwriter lets you turn YouTube video content into written articles, including AI-generated images, titles, and more with the help of a Scrape Al API account.
You can customize the article generation process, including choosing headings and FAQs, and even embed related videos.
The articles are compatible with platforms like WordPress for easy publishing.
Bulk Seo Writer
The Bulk SEO Writer is a remarkable tool that simplifies and streamlines the content creation process. It allows you to effortlessly generate multiple SEO-optimized articles in a fraction of the time it would take manually, without removing any entities.
Here's a step-by-step guide on how to use the Bulk SEO Writer:
Begin by gathering all the necessary information for your articles, including titles, background details, outlines, and SEO keywords. Organize this information in a CSV file format for easy uploading.
Access the Bulk SEO Writer tool and locate the option to upload your CSV file. Simply click on the upload button and select the file from your computer.
Once the CSV file is successfully uploaded, the manual titles will disappear, and you'll notice that the SEO CSV button turns green. This indicates that the tool has recognized and processed your information.
Now, sit back and relax as the Bulk SEO Writer takes over. It will automatically generate articles based on the information provided in the CSV file. The tool's advanced algorithms ensure that the content is SEO-optimized and of high quality.
As the tool works its magic, you can focus on other essential tasks, knowing that your articles are being created efficiently and effectively.
The Bulk SEO Writer is a time-saving tool that helps you create high-quality, SEO-friendly content. It eliminates manual input and ensures that your articles are immediately usable.
Magic Commands and Rewrite
ZimmWriter's key feature is its use of Magic Commands and Rewrite functions across various platforms on your PC.
You can highlight text in various applications like Google Docs, Microsoft Word, Notepad, Adobe Reader, or Excel, then use shortcuts (CTRL+1 for Magic Command, CTRL+3 for Rewrite) to leverage the AI.
It can be summoned from anywhere on your desktop, integrating smoothly into your current workflows.
It uses machine learning and can work alongside software like Grammarly, Trello, Slack, Dropbox, and AI models like GPT-3, fitting into your workflow effortlessly and boosting your productivity.
Custom Outlines
ZimmWriter's SEO Blog Writer allows users to manage the structure and headings of their AI-generated content, providing the ability to set the title, H2s, H3s, and section progression prior to AI text generation.
This control over content structure is highly advantageous.
ZimmWriter also features numerous AI-driven functionalities, including keyword optimization, readability improvement, and content customization, with regular updates introducing new capabilities.
It's more than an AI writing tool – it's a dynamic content creation solution that adapts to the changing needs of content marketers, bloggers, SEO professionals, and digital marketers, always staying ahead of industry and technological trends.
ZimmWriter Benefits and Use Cases
What are the key benefits of using ZimmWriter's core features like text generation and language processing?
What are its main uses, including creating content, drafting social media posts, writing blogs, and aiding in academic research?
Key Benefits
Here are some of the most noteworthy benefits and advantages ZimmWriter provides:
Saves time – Automated content creation tools, utilizing advanced AI and NLG algorithms, significantly reduce the time spent on manual or outsourced creation of different text materials. These can include blogs, articles, web pages, social media posts, newsletters, and press releases.
Increases output – Thanks to the artificial intelligence backbone, a single user can create 10X or even 100X more content spanning different formats using ZimmWriter compared to writing manually.
Lowers costs – ZimmWriter provides a cost-effective content creation solution, with an average cost of just 2 cents to 20 cents per thousand words. This contrasts with traditional methods like employing in-house writers, freelancers, bloggers, or copywriters, or using content mills, which often result in escalating costs.
Natural writing style – AI algorithms use advanced machine learning, including Natural Language Processing (NLP), deep learning, neural networks, and various AI tools to create content that closely mimics human writing in sentence structure, word choice, and tone. This results in a final output that strongly resembles human writing, distinguishing it from the usual robotic language of AI-generated content.
SEO optimization – Features like the SEO Blog Writer tool produce blog posts that are already optimized on-page for their ranking potential in search engines, helping businesses improve their online visibility and attract more organic traffic.
Accessibility – ZimmWriter, a desktop application, allows for easy use anywhere without needing a specific website. It effortlessly integrates with numerous text fields on your PC, including Microsoft Word, Google Docs, among others. This flexibility guarantees an improved writing experience on various platforms and software.
Flexible integration – The ability to invoke ZimmWriter from any app via Magic Commands makes it easy to integrate into your existing workflows and tools.
Regular updates – ZimmWriter is frequently updated with new features, capabilities, and improvements through major and minor software releases.
ZimmWriter, backed by OpenAI, benefits a diverse group of users such as marketing strategists, SEO experts, entrepreneurs, content creators, and general internet users.
Uploading Directly To WordPress
ZimmWriter has a new feature that integrates with WordPress, allowing users to connect up to 10 WordPress websites to ZimmWriter. This integration enables automatic uploading of completed blog posts.
WordPress integration setup is easy. Users can connect and manage their WordPress websites from the ZimmWriter options menu.
To connect a WordPress site, provide the URL of your site in the format of 'yoursite.com'. Only HTTPS is currently supported.
In addition, users will need to provide the WordPress username associated with either their admin account or an account with the ability to create new posts. It is important to clarify that the app password is distinct from the password used for the WordPress username.
The latest versions of WordPress provide a convenient solution by enabling users to create multiple 'app' passwords for a specific WordPress user. This approach ensures maximum security when granting access to third-party apps such as ZimmWriter, without the necessity of revealing the complete account credentials.
Creating a new app password is a straightforward process. Just follow these steps:
Step 1: Visit your WordPress site.
Step 2: Select the user with posting privileges for whom you wish to generate an app password.
Step 3: Access their profile and make necessary edits.
Step 4: Scroll down until you locate the section resembling the screenshot provided below.
Scraping Surgeon
Scraping Surgeon allows easy extraction of specific content from web pages. It uses CSS ID and class selectors to identify and scrape desired information.
Basic knowledge of HTML and CSS is important for using this tool effectively. HTML tags represent webpage components, while CSS defines their appearance.
By linking HTML tags to CSS code using selectors, you can define the style of the content to be scraped. Understanding nested HTML tags is crucial for scraping all content within a referenced tag.
Scraping Surgeon provides full control over configuring scraping options, including specifying CSS selectors or HTML tags for the title, image, and text. It also allows filtering of irrelevant information from the scraped data.
Additional features include saving up to 50 domains and enabling/disabling Scraping Surgeon detection for specific domains, giving complete control over the scraping process.
Image API Integration
When integrating the Image API, you can retrieve relevant images for your content through ZimmWriter.
Here are the key features of ZimmWriter's Image API integration:
Automated keyword search: ZimmWriter searches for suitable images based on your article.
API service: ZimmWriter uses the Pexels API to retrieve high-quality images.
Relevance and responsibility: It's important to review the images for relevance and potential offensiveness.
Copyright compliance: Follow copyright laws and obtain proper permissions for using the retrieved images.
Use Cases
Some of the most popular applications and use cases for ZimmWriter include:
ZimmWriter is utilized by marketing agencies to efficiently produce various content assets such as blog posts, articles, product descriptions, and more for their clients. This tool simplifies the content creation process, effectively addressing diverse client requirements.
Using the SEO Blog Writer tool, SEO experts can quickly optimize on-page content for targeted keywords across a website, effectively improving its search engine ranking potential.
Startups and small businesses increase website traffic with local SEO strategies, such as localized landing and service pages. These pages improve their online visibility in specific areas, link them with local audiences, and attract potential customers seeking local products or services.
Bloggers using Magic Commands and Rewrite to accelerate drafting posts, overviews, introductions, summaries, and other content components.
Writers use AI-generated passages for inspiration or using Rewrite to improve their own manually written drafts.
Students summarize research materials and references quickly using Magic Commands.
Affiliate marketers create scores of product review articles optimized for keywords and conversions.
Software documentation teams speeding up the drafting of technical guides and user manuals.
Anyone looking to simplify and enhance their content creation workflows and output.
The use cases are nearly endless, given ZimmWriter's flexibility, customization, and diverse content creation capabilities oriented around different goals.
ZimmWriter Tutorial: Step-by-Step Guide
Now that you have a firm understanding of ZimmWriter's offering let's walk through a step-by-step tutorial guiding you through getting set up and leveraging its AI power:
Step 1: Sign Up and Purchase Access
First, you'll need to purchase access to ZimmWriter. This platform offers various pricing options, including monthly subscription plans or a discounted lifetime deal.

Once your purchase is complete, you'll receive a license key via email. It's crucial to keep this key safe and record it, as you'll require it in the near future to activate your ZimmWriter access.
Step 2: Download and Install ZimmWriter
After receiving your license key, the next step is to download the zip file. Once you've downloaded the file, follow these steps to install ZimmWriter onto your Windows desktop computer:
Locate the zip file, which is usually in your "Downloads" folder unless you specify a different location.
Right-click the zip file and extract it using Windows built-in archive extractor or some other tools like 7 zip.
Open the extracted folder and locate the start.bat file.
Double-click the start.bat to initiate the setup process
Step 3: Configure Your OpenAI Account
Since ZimmWriter connects with the OpenAI API, you'll need an OpenAI account with a valid API key.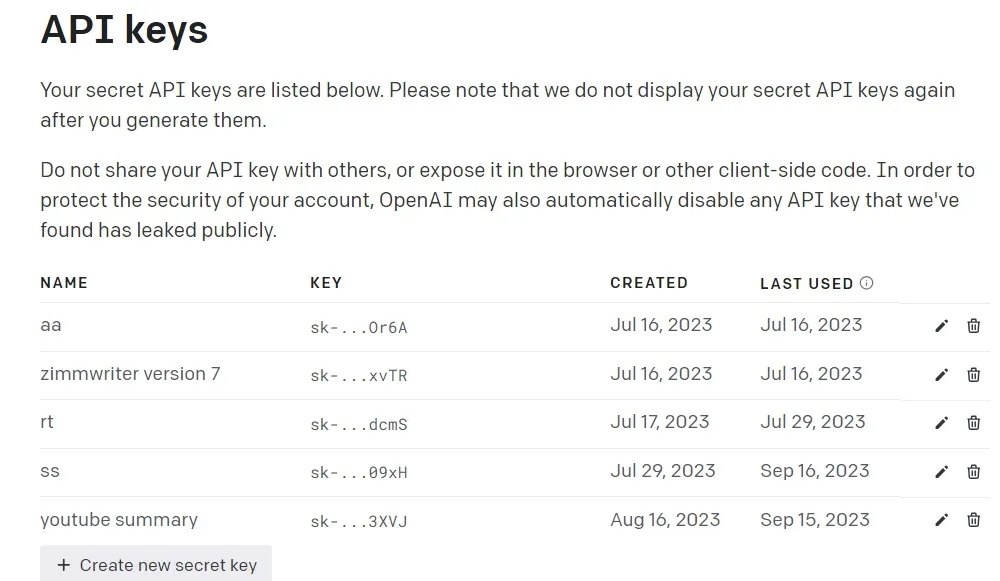 Visit openai.com to sign up for a free account and generate an API key within their dashboard. Copy this to your clipboard temporarily.
Launching ZimmWriter for the first time will ask you to enter your license and OpenAI API keys. This establishes the linkage with OpenAI's models to enable AI capabilities.
Step 4: Set Up Keyboard Shortcuts
A highly useful feature of ZimmWriter is its AI commands that can be triggered anywhere using keyboard shortcuts.
When you start ZimmWriter for the first time, it will guide you through configuring these shortcuts:
Magic Command (CTRL + 1) – Have AI generate content from highlighted text
Continue Writing (CTRL + 2) – Have AI continue writing more text
Rewrite (CTRL + 3) – Have AI rewrite a highlighted portion
You can use the defaults or customize shortcuts to your preferences.
Step 5: Generate Your First Blog Post
Once your account and shortcuts are ready, use the 1-Click Blog Writer to create your first AI blog post.
Type your blog topic into the dedicated text field on the dashboard and initiate the process. ZimmWriter will promptly generate a unique blog post, with relevant headings and paragraphs.
Review the produced draft. You can modify it to your preference by adjusting parameters like length, formality, keywords, etc.
Use ZimmWriter's additional tools to improve your post. These include a thesaurus, grammar checker, readability score, plagiarism detector, and SEO optimizer.
Step 6: Optimize Output with the SEO Blog Writer
Once you've familiarized yourself with the 1-Click Blog Writer, it's time to take your content creation to the next level by trying out the SEO Blog Writer feature.
With the SEO Blog Writer, you have the ability to customize every aspect of your blog's structure. This includes headings, subheadings, meta descriptions, keywords, and more, all before letting the AI generate the full blog post.
Here's how you can make the most of the SEO Blog Writer:
Customize Blog Structure: Adjust your blog post's structure as per your requirements. Use headings and subheadings for effective content organization.
Optimize for SEO: Boost your blog's search engine visibility by fine-tuning SEO elements such as keywords and meta descriptions.
Keyword Density: Optimize keyword density to achieve your SEO goals. This tool enables you to tactfully use keywords while preserving readability.
Voice Tone: Adjust your blog post's tone to align with your brand or audience. You can choose from formal, casual, or professional tones as needed.
Media Inclusion: Improve your blog's attractiveness and interaction by including necessary images, videos, or other media elements.
Content Outline Loading: Use content outlines or templates to guide the AI, ensuring the produced content matches your desired structure and message.
Using these features enables you to craft SEO-optimized blog posts that align with your brand voice and audience's tastes. This enhances your on-page SEO and may increase conversion rates.
Step 7: Integrate Magic Commands into Your Workflows
Utilizing keyboard shortcuts and incorporating Magic Commands can significantly enhance your content creation process with ZimmWriter.
Here's how to effectively use these shortcuts:
Drafting Content in External Applications:

You can start your content creation process in familiar applications like Google Docs or Notepad.

Generating Relevant Content with CTRL+2:

When you reach a point in your draft where you need AI assistance to expand upon a specific topic or section, highlight the relevant text.
Then, press CTRL+2. ZimmWriter will generate additional content based on your selection, helping you to elaborate on your original ideas.

Instantly Rewriting with CTRL+3:

If you find that a section of your content needs a fresh perspective or a rewrite for clarity or style, simply highlight the text you want to rewrite.
Then, press CTRL+3. ZimmWriter will instantly rephrase the selected section, providing you with an alternative version.
Incorporating these commands into your weekly content creation can enhance productivity. It enables smooth integration of AI-generated content into your workflow, reducing time and effort. This can aid in producing superior, well-organized content more efficiently.
Step 8: Continue Learning and Optimizing
To better understand ZimmWriter, refer to the training resources like videos, blogs, manuals, Courses, and FAQs.
Push your creativity to the limits with innovative prompts and unique input combinations. Monitor your results with analytics tools and adjust your methods accordingly.
Through regular practice and adjustments, you'll create a system to generate large-scale AI content that meets your standards and increases your productivity.
Pro Tip: Pass AI Detection with ZimmWriter Content
When leveraging AI for content creation, one concern is passing plagiarism and AI detection checks.
Fortunately, ZimmWriter makes it easy to generate AI content that goes undetected and passes as human-written.
The key is using settings like:
Enabling literary devices for more human-like phrasing
Setting the tone to personal rather than professional
Avoiding excessive awkward keyword repetition
Using synonyms and related terminology
Providing ample background context
With the right settings dialed in, ZimmWriter content can fly under the radar of detectors and avoid any issues.
ZimmWriter Pricing Plans
When considering any software purchase, pricing is often the prime factor. So, what are the ZimmWriter pricing options, and what represents the best value?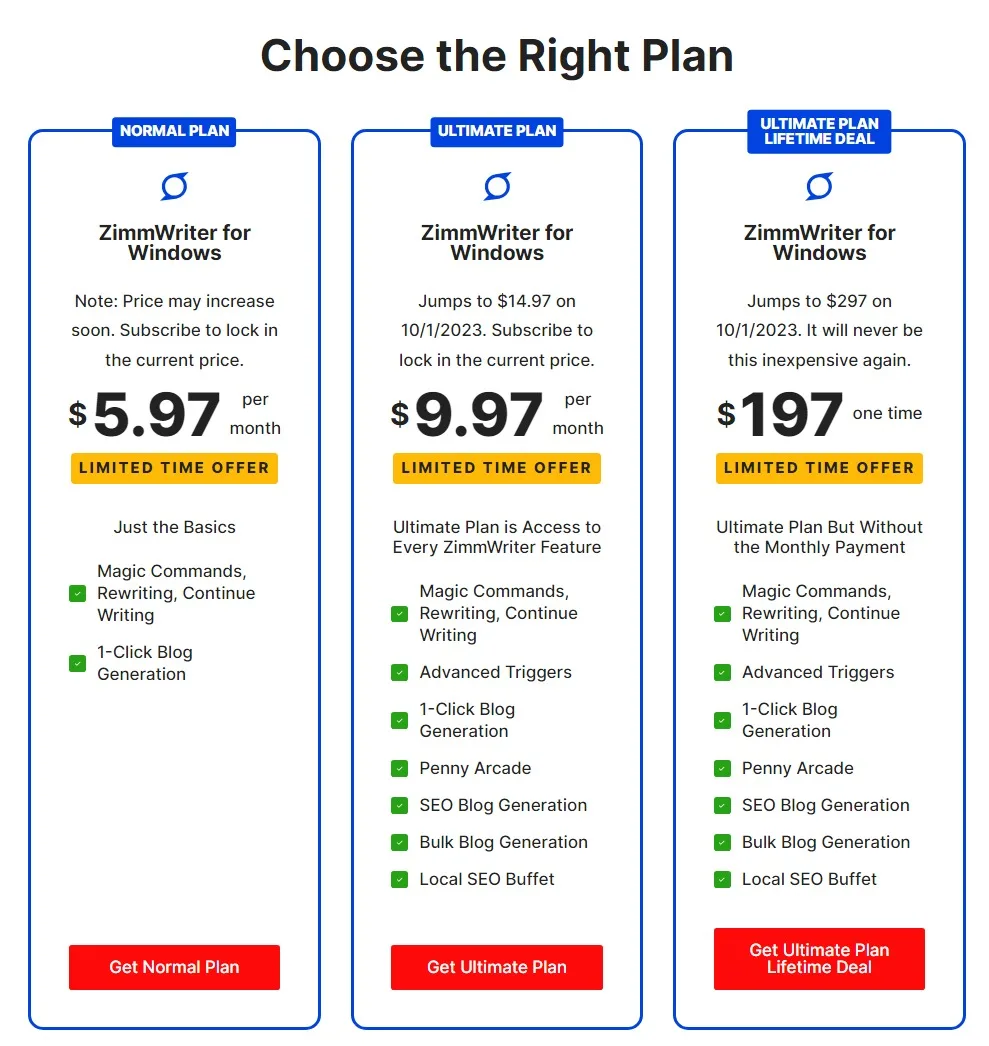 Here's an overview of ZimmWriter's pricing:
Monthly Subscription
Basic Plan – $5.97 per month
Pro Plan – $9.97 per month
Lifetime Deal
The Pro monthly plan includes all features. But the best value is the lifetime deal if your budget allows. At $197 total for perpetual use of the software, the lifetime deal pays for itself quickly compared to monthly plans.
You must also factor in OpenAI usage fees, which run approximately 0.004 per 1,000 characters generated. This works out to 100,000 characters, costing around 0.40.
So, ZimmWriter is affordable compared to hiring content writers, especially when you purchase the lifetime deal.
Conclusion: Should You Use ZimmWriter?
In my view, ZimmWriter is an essential tool for content creators.
Its benefits include time savings, high-quality content, SEO optimization, easy integration, and cost-effectiveness, making it a sound investment.
Although it requires some time to understand how to customize prompts, the results justify this learning curve.
For those looking to enhance productivity through AI, ZimmWriter is a fantastic option.
We recommend taking advantage of the lifetime deal as regular use can accelerate content creation, boost traffic, and expand your business.
It's an excellent tool for improving search engine rankings.